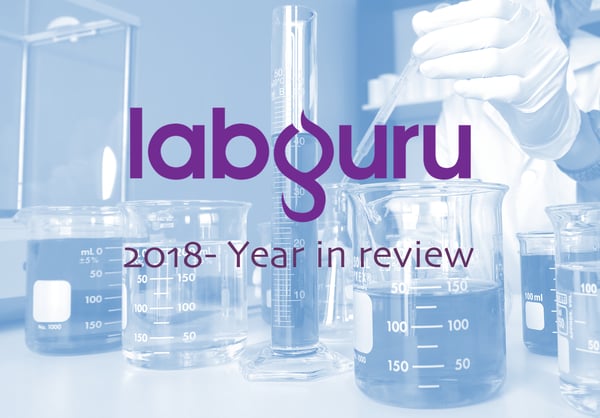 2018 was a super year for Labguru. Our major aim is to comply with our customer requests and make sure our product answers those needs and help them be more efficient in their research work. During this year we released new features and product improvements that help biotechnology and pharmaceutical companies be more efficient and help labs save money and be organized. Here are the top 7 features for 2018:
Integration with R & Running Workflows
Scientists need to deal with vast amounts of data that requires analysis. The process can be long and involves different functions, each responsible for a specific step in the process. Labguru ELN now enables you to build complex and automated data pipelines. In addition, labguru lets you run preconfigured R scripts on your datasets and automatically embed the results and figures in the results section or the relevant dataset, keeping all of your items within context. With WorkFlows Labguru users can design automated scripts, specifically designed to their account and research work, that will manipulate and analyze attachments added to experiments. WorkFlows are also useful when there is a need to create a connection between your Labguru account to any other applications you are working with. Learn more about managing data and workflows here.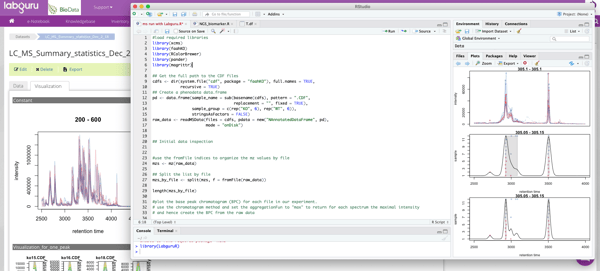 Equipment Calibration
Calibration is one of the primary processes used to maintain instrument accuracy and is crucial for generating accurate results. Labguru allows you to manage your instrument calibration easier and faster with proper documentation. Instruments added to the 'Equipment' module can be set as 'require calibration'. Calibration events can be documented for each equipment or by bulk-calibration option for multiple instruments of the same type.
Click here to learn more about equipment calibration software.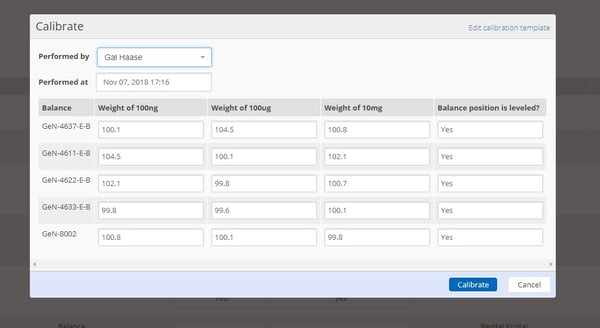 Form Element in Protocols
The new Form Element allows you to design a uniformed or structured protocol, adjusted to company-specific needs and the results you are looking for. Form Element enables you to create a pre-defined template, designed at the protocol level and cannot be edited while used in experiments besides the data entry fields such as checkboxes, text boxes, date pickers and more. It also allows you to define the data range for the input fields. Once an 'Out of range' data is entered, the system will notify the relevant users and you can set how to proceed (allow it or not). The value entered to the data fields can automatically be linked to datasets to ease the process of comparing between experiment results. Learn more about this new feature here.

Label Printing
Labguru Label Wizard integrates with the Inventory Management & Storage module. The label Wizard allows you to generate labels in any shape, size or format, containing text and barcodes, directly from Labguru. Admin users can create templates and design them as needed. This system also supports printing of QR codes, 2D barcodes and company logos to be added to the labels. To learn more about the label wizard click here.

Sample Basket
Save time by easily adding samples and stocks, creating your new experiments with your Sample element already populated.
Adding your samples to an experiment is the pinpoint of creating the link between your inventory and ELN. Now you can add samples from any page by using the 'Sample Basket'. Quickly add them to the Sample Basket by scanning the existing barcodes of your stocks or add a sample by searching for a respective collection, similar to the process in Sample element. Once the desired samples are added to your Sample Basket, start a 'New experiment' that will contain all the samples already added to the sample element.
Gantt Charts for Projects
Planning research projects in biotech and pharma companies require careful planning and budgeting. Using Gantt charts to monitor your project progress vs. the plan and to keep your project timeline organized is highly recommended and will help you save time and money.
Labguru ELN now incorporates Gantt charts and allows you to seamlessly manage cross-functional efforts within your lab, all in one application. The Gantt chart is automatically updated when changes are made in the experiment pages, AND now users can ALSO update the experiments from the Gantt view.
Click here to learn more about scientific project management.
Teams
Last year we added editing and viewing privileges to several Labguru modules in order to control who can see/edit items in the system. Taking this to a further step and in order to ease the work of large companies, admin members can now create teams in Labguru. When an employee is added to a certain team, he is automatically granted with the teams' privileges, eliminating the need to add a member to specific modules one by one, saving the admin time in setting the users' system privileges.
In addition to those major features, we added additional smaller features and continue to serve our customers with our dedicated high-quality Customer Success team. We strive to give our customers the best lab notebook software, great customer service and accustom to their needs.
2019 Here We Come!
We are looking forward to 2019 which encompasses exciting product releases that bring lab informatics and electronic lab notebooks into a new era.
To learn more about Labguru – contact us
Read more: