Labguru - Simplify NGS Processes
Answering the Challenges of Next Generation Sequencing
Labguru is a cloud-based platform perfect for streamlining NGS processes. With Labguru, scientists can focus on bench work and experiment planning instead of wasting precious time on manual and repetitive management tasks.
According to a recent survey by Labguru, most scientists who perform NGS struggle with managing, centralizing, and analyzing data, communicating with their team, and managing reagents and samples.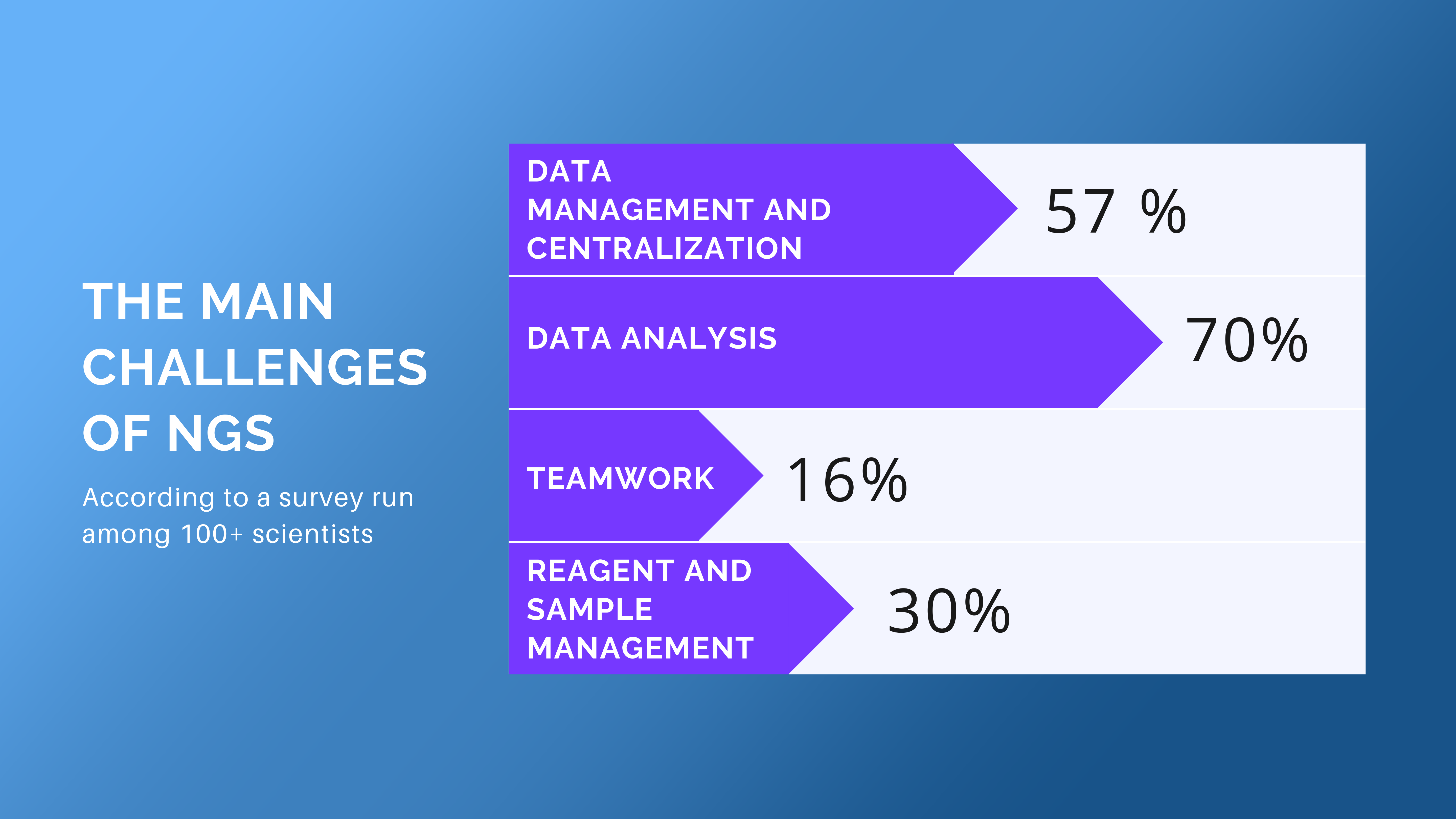 Here's how Labguru solves these challenges:
Data centralization
Labguru centralizes all your research information in one place, from protocols and experiment entries to samples and stocks. It reduces the risk of human error and redundant work by providing an organized, accessible, and searchable database.
Keep track of all previously sequenced libraries in the lab
Use protocol and SOP templates to make processes and experiments easily reproducible
Standardize and structure your experiment entries with reusable forms
Easily view the different stages of the NGS procedure — see the big picture, track, and review
Data Analysis
70% of researchers who perform NGS procedures say that data analysis is the most challenging part of the process. Labguru enables you to run advanced queries, as well as create and visualize reports, allowing scientists and data scientists to work on data in the same location.
Run advanced pre-made or custom SQL analysis queries
Use the Workflow Editor add-on to Further analyze your results using Python, Ruby, or C#
Create and visualize reports in tables and graphs of your choice
Receive BI and make data-driven decisions
Create datasets to compare results and track your progress
Structure data from multiple formats and sources
Integrate with external analysis software via API
Inventory, Storage and Equipment Management
Labguru's LIMS modules simplify lab management, helping scientists create an organized and efficient lab.
Track the remaining amounts and expiration date of each sample and reagent
Assign a physical storage location to every stock so that you always find what you need
Create, edit and approve shopping lists in a centralized manner, preventing duplicate orders
Add specific stocks to your ELN entries to track exactly what was used in every experiment
Track aliquots and derivatives
Manage equipment calibration and maintenance and schedule equipment sessions
Teamwork
Labguru provides a cloud-based shared workspace where lab members can easily communicate and collaborate.
Create shared experiments and work together
Comment and create discussions on any item in the system
Assign tasks to lab members to stay on top of your projects
Plan your projects with Gantt charts, view your lab's work schedule on a calendar and receive notifications on tasks and events
Use Labroom to make and save video calls and keep them in the context of a project