Labguru Automation
Automate any laboratory management and data processing routine with ease. Save time and reduce human error using step-by-step workflows.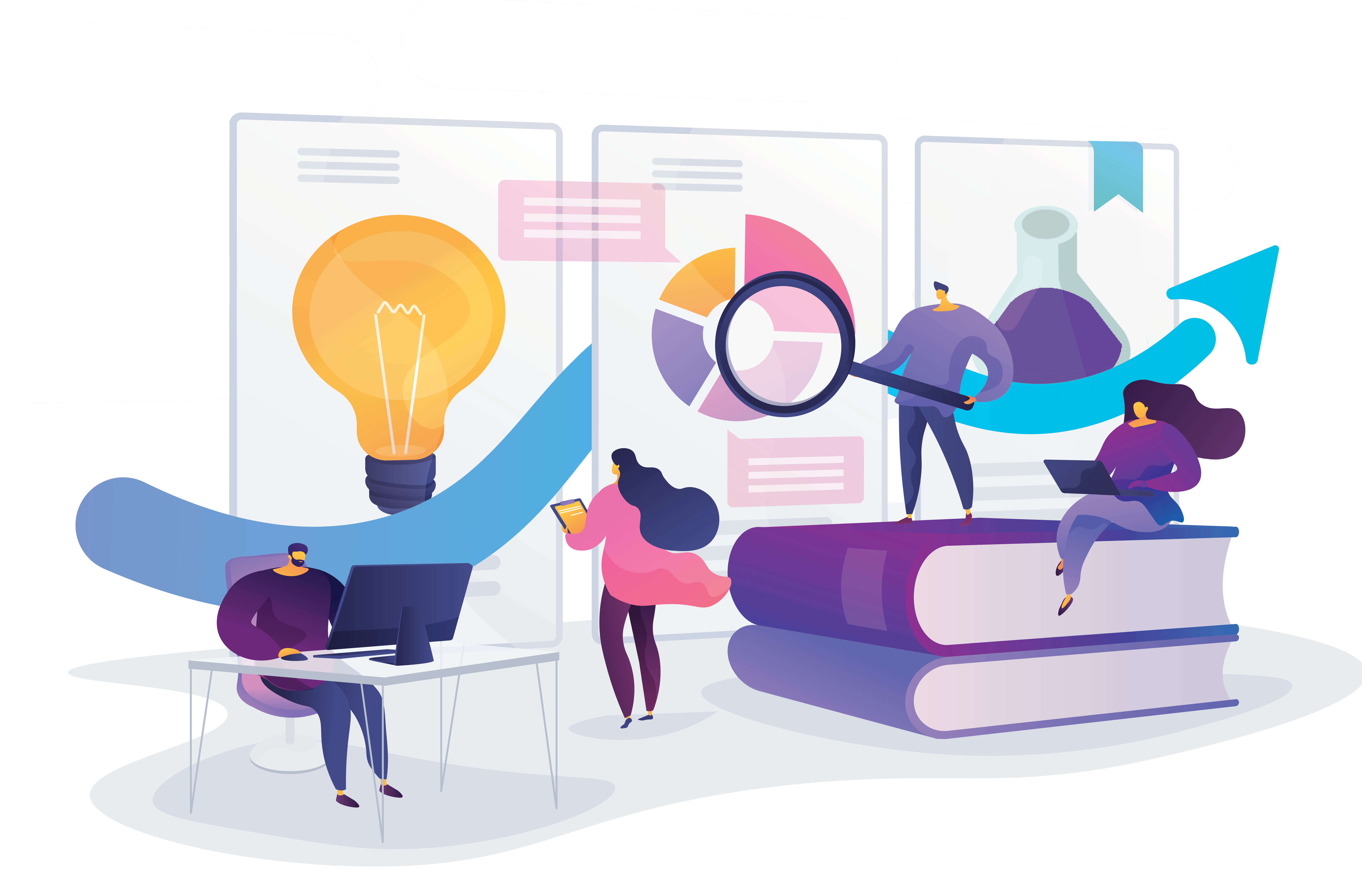 Research in the modern age involves huge amounts of data, which in turn calls for many time-consuming data capture and data processing tasks. Labguru Workflow Editor is an add-on solution to the Labguru ELN which enables you to build custom automated workflows — saving time, reducing human error, and accelerating research and discovery.
How Does It Work?
Set triggers: Set your workflows to occur routinely, or as a reaction to user activities in the system.
Set Rules: Create a set of rules to define the exact circumstances in which the automation will be activated, and if necessary define points in which the workflow splits to accommodate different scenarios.
Build workflows step by step: Assemble predefined steps in chronological order to design the flow of the process.
Add code with the Lab Scripter: If necessary, add custom code blocks of Python, Ruby, C#, and soon also R, to further tailor the automation to your lab's needs.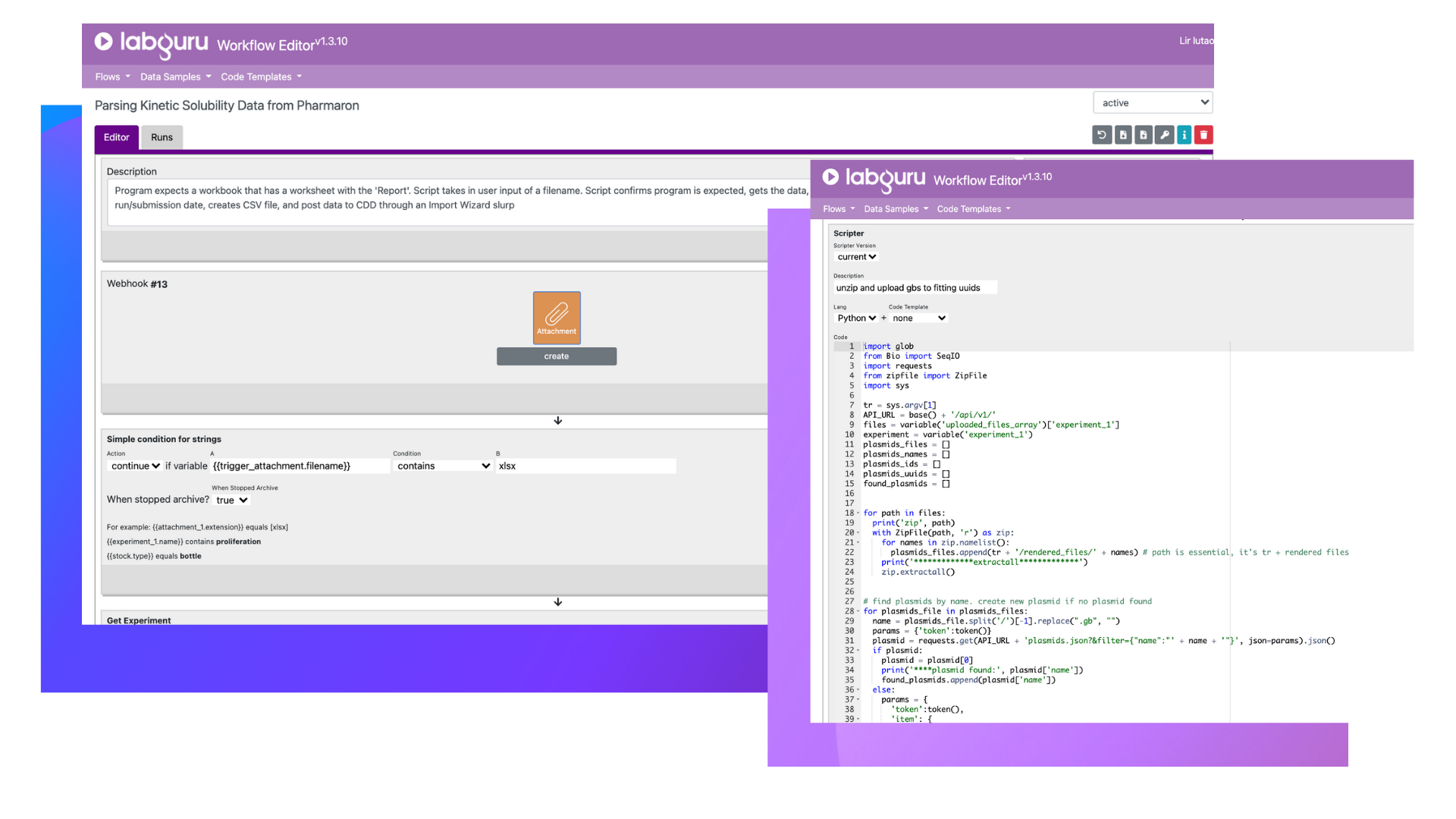 Labguru Workflow Editor is a powerful tool that provides you with full control over your research and lab data — any action that can be manually performed within Labguru can be automated using the Workflow Editor.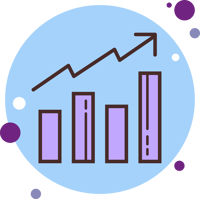 Data Processing
Automate data analysis by integrating biological, chemical, or statistical calculations in your workflows
Structure data

to be machine learning and AI-ready

Extract data

from external resources (like instruments or programs)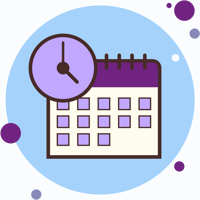 Research Lab Management Tasks
Automate routine operations such as inventory and sample tracking, experiment documentation, equipment management, shopping list and pricing calculations, and more
Automatically generate reports on experimental data or lab management data
Receive notifications via email and slack for selected activities and tasks
Take a look at a few of the many ways our customers use Workflow Editor:



Environmental monitoring
The workflow integrates with environmental monitors in a greenhouse, clean room, hood, or any other desired workspace, and retrieves data. The data is then structured using datasets, and when a new experiment is created, the environmental data gathered at that date and time is automatically entered.
Complex Calculations (E. G. IC50)
The workflow performs automatic data validation and structuring, then runs complex calculations such as IC50. The results are visualized using graphs or tables.
Bulk Registration of Plasmids and Protein Translations
The workflow imports large amounts of files (such as GeneBunk files) into the system, creates a new plasmid entry for each one, and auto-fills the fields. The workflow searches for exceptions set by the user — for example, create an antibody entry for each matching pair of plasmids (Heavy and light chains).


Automated Report and Quote Creation for Service Labs
The workflow automatically creates new experiments and samples to be tested according to the customer's request. When the experiment is finished, the workflow creates a report, calculates the pricing, and sends them to the customer.
Tracking Lab Training
The workflow tracks the training each lab member undergoes, calculates the time until the next training, and sends a notification when training is due.
Certificate of Analysis (CoA) report creation
The workflow automatically collects information from multiple ELN entries into a pre-defined CoA report template for batches produced in the Lab.
This is only the beginning - with Workflow Editor you can achieve any automation you require!
Support Tailored To Your Needs

Support
Our support team is made up of scientists with experience in all life science fields, who will gladly assist you in creating and implementing workflows. If you have basic knowledge of Python, we can teach you how to use the Workflow Editor and gain control of the system's full capabilities.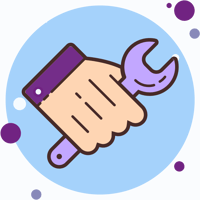 Professional services
We also offer a professional workflow development service - we can also create basic workflows that you can build upon, or develop full workflows fitted to your needs.
Why Choose Labguru Workflow Editor?
With Labguru Workflow Editor, you can...
Personalize your workflows according to your exact needs
Save time on manual repetitive tasks such as calculations, data manipulation, structuring, and transferring
Minimize human errors by removing manual data processing steps
Maintain data integrity and comply with GxP guidelines by ensuring all processes are documented, monitored, and accurately performed
Centralize your activities on one platform by integrating with Labguru as a holistic system. You can even integrate with other apps using their API.
Bridge the gap between the scientists who gather experimental results and bioinformaticians/data-scientists who perform data analysis