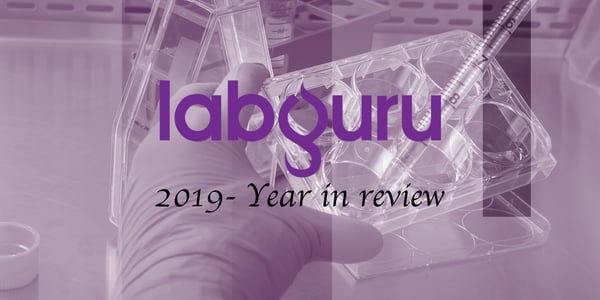 We thought 2018 was a "super year', but then came 2019 and proved that it could be even better. Not only it was our best year ever in signing up new and major customers but also product-wise we managed to introduce exciting new functionalities that help our customers and answer their needs. Following are the 7 top features for 2019:
The workflow editor
The Workflow Editor is no doubt the major addition to Labguru ELN in 2019. The Workflow Editor is an interoperable solution, that is a Labguru add-on, and allows our customers to customize and automate a series of actions and events that happen in their lab. The Workflow Editor runs on a stand-alone server and connects to Labguru via API.
The Workflow Editor can help with process automation and data analysis. It allows you to customise and personalize the process, develop bio-ontologies, minimize human errors, create reports, maintain data integrity and much more.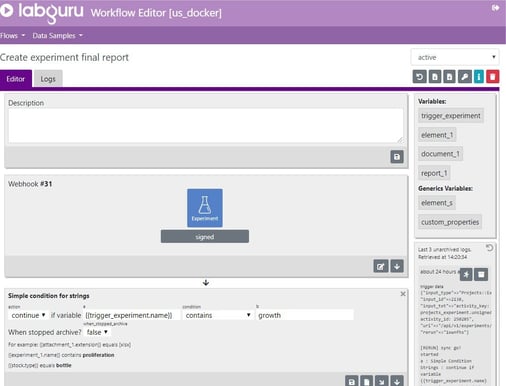 You can read more about our Workflow Editor – Here.
Datasets
We continued to develop our datasets module that allows structuring the experimental data collected by the lab members. Datasets can be created from tables that are designed in form elements. Tables can be designed as part of the protocols, and then each experiment started from the protocol automatically generates a new dataset. The data inserted into the table is automatically added to the dataset, which can then be connected to the items in the inventory and allow to easily extract the dataset for further analysis. Together with an option to add/remove rows to the table, designing tables in protocols is now a simpler and easier process.
Easy Edit
The new inline editing app allows users to access and edit any document within the original application, with no need to switch between different platforms or lose time uploading and updating files. Launching all applications directly within Labguru allows all document changes, regardless of source, to be made in the app where they are autosaved for seamless and efficient editing. Instant retrieval, annotating and sharing of information improves the accuracy of reporting and the fully auditable document version control tightens data compliance.
Labguru users can now embed files containing experiment results or related research data directly in the app, with no need to download and re-upload new information or manually track the latest file version.
Read more about the Easy Edit app-Here.
Equipment
Labguru ELN offers an all-in-one platform, including a calibration and maintenance feature as part of its Equipment module. Labguru's Equipment module allows an overall view of the equipment status, along with additional booking and maintenance events. In addition, you can automatically transfer the raw data from your instruments into Labguru. The greatest advantage of using Labguru's Equipment module together with the ELN is the ability to link your equipment to your experiments, protocols and more and to save time by viewing your equipment status directly from the experiment page.
API
Labguru's API is an advanced feature and requires basic knowledge in coding. Using an API with an ELN enables you to expand your ELN with additional software integrations creating an agile, robust smart laboratory system. Using an API allows you to import and export data in and out of Labguru, acquire data from lab instruments and connect to third-party databases and catalogues. In addition, you will be able to automate lab processes and extract experimental data. To learn more – Click here.
Facelift to Labguru's Interface
Multiple improvements were made to Labguru's interface. For example, we added advanced filtering and search options to the Experiment index page which allow users to find experiment faster. We also added a smart summary of each experiment in the index page, allowing a fast review of the experiment status.
Labguru Academy
Labguru Academy is designed for companies working with Labguru and can ease the ability to train new employees to work properly with Labguru, as well as existing employees who can deepen their knowledge in advanced Labguru functions. Labguru Academy is currently comprised of eight online courses. It is constantly updated with new features.
Labguru Academy enables you to train your employees individually at their own pace, it's always available and allows you to monitor your employees' advancements, and, in addition, facilitates better deployment of Labguru across the organization. A diploma is granted to the employee upon completion of each course.
To learn more about Labguru- Contact Us.
Read more blog posts: