An Electronic Lab Notebook (ELN) is a software application for documenting scientific process in the laboratory, a key requirement in modern, fast-moving and technologically advanced science-based environments. In recent years, the adoption of ELNs is rising – a recent report anticipates the global ELN market will grow from $221.5 Million in 2015 to $615.2 Million by 2026, registering a CAGR of 10% in revenue [1].
A recent report released on June 2018 by the Economist Intelligence Unit (EIU) and commissioned by Parexel International Corporation [2] affirms that implementing advanced technologies such as AI, Big data and Cloud-based applications in the drug development industry can contribute to higher efficiency and productivity and result in cutting R&D lab costs.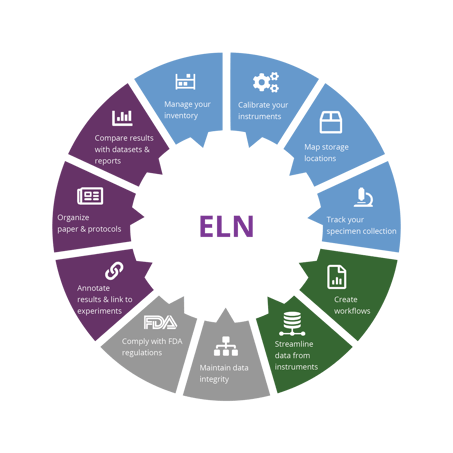 One of the major concerns of biopharmaceutical R&D executives is maintaining data integrity throughout the entire drug discovery and development lifecycle. Maintaining high-quality data that complies with regulatory and IP protection requirements is a must for any industrial laboratory and is crucial for shortening a drugs time to market and avoiding unexpected expenses and delays due to violations of data integrity regulations. The ability to store all the data in one place, create contingencies, bio-ontologies, retrieve data and store all relevant communication within context, can save time and money, and assure data integrity.
I am a biologist by training and over the 13 years, I have been working in the research data management industry. I am the Founder and CTO of BioData since its inception. Throughout my career, I have worked with clients across the world to successfully tackle informatics challenges and increase laboratory productivity. Over the years I learned a lot about what various life science companies are looking for when searching for the best electronic lab notebook. While in some cases the needs of academic and industry labs are similar, there are differences and it is important to understand them and avoid falling into occasional pitfalls. In this article, I will try to outline the parameters you should consider when evaluating an ELN platform for your company.
Understand your challenges and needs
First and most important is to understand what are your key challenges and what is important for you in an ELN and informatics software system. For example, the key challenge that BiomX was facing was the need to track, manage and store huge amounts of accumulated data, while for Phoremost the key challenges were capturing R&D breakthroughs and advances, standardizing processes, and recording inventions for IP protection, in addition to streamlining team communication.
Define Return On Investment (ROI) parameters
Once you identified the key areas in which you feel an ELN software will help you, you should set ROI parameters. Your primary drivers are likely to be around saving time and increasing efficiency in the laboratory. When assessing different solutions, it is important to see real evidence of how they have achieved this with other companies and what quantifiable results were gathered. For example, ADC Therapeutics, a pharmaceutical company focused on the development of proprietary Antibody Drug Conjugates (ADCs) for the treatment of both solid and haematological cancers, reported that they had achieved significant benefits from adopting our ELN. The company's overarching goal was to increase efficiency, productivity, and collaboration by migrating from a paper workflow to an ELN. ADC reported an estimated gain of one additional day of productivity per week for their scientists by increasing throughput of sample analysis and completed experiments. Look out for this kind of tangible case study and ask the vendor if you can speak to the customer featured to find out more. If you work out financially what kind of savings you could achieve based on a similar scenario, you will have a powerful business case for choosing a particular solution.
List your requirements for the best ELN
Make a list of the system variants that are important to you and compare between the various systems you are looking into. From my experience, I would divide it into general requirements and system modules and features.
General Requirements
Ease of deployment- Technical
Large organizations must consider ease of ELN deployment and see that it does not affect the company's productivity. Look for an ELN software that will enable you to start working in a short time. There are a few parameters that affect deployment:
Setting up the system
The ability to set up your new ELN in a matter of days or weeks will help you minimize deployment time. Some systems require onsite vendor personnel and can take months of deployment and setting up and some allow you to start deploying immediately as they are cloud-based and require only light configuration.
Populating your system and importing your previous data
Make sure to check how your existing data is imported and uploaded to your new ELN:
Does the system enable you to upload files of any format to any section of an experiment or protocol? (Office files, image formats etc.).

How is the export done?

Can you edit the original document you exported?

Can the support team escort you during this process?

Inventory management-

The ability to

connect between the inventory and the ELN system is a huge advantage and keeps all the information linked and in context
Configuring
Verify that the vendor offers the configuration options you need as the ability to tailor the ELN system close to your exact needs is a must and allows you flexibility in managing your data. Some ELNs allow you to use an API in order to connect your ELN with other existing software or instruments. Try choosing an ELN that allows field configuration from forms, inventory collections and so forth.
Administration – Defining users and privileges
There is a fine line between the need to collaborate and protecting your data. Setting user privileges is important for good teamwork but also allows you to control access to data. The best ELN will enable you to set roles, create groups and manage privileges effortlessly.
Integration with existing supporting software and instruments
In some cases, you will need to transfer data from your lab instruments to your ELN for further analysis. Some ELNs offer an internal importing tool that can automatically upload documents from lab instruments and computers into your account.
Ease of use- Seamless onboarding
You will quickly find out that ease of use and easy onboarding to your new ELN is a key factor for the success of this project. The user interface should be friendly, easy to navigate, self explicable and easy to understand for new users. Think of creating a user group to check out the different products and evaluate which product works better for your users.
Data storage & backups
Each company has different views on data storage. While working on the cloud has many advantages (easy access from anywhere, anytime from any computer, some might be concerned that their most valued information resides on the cloud. There is a possibility to have a private cloud with your designated server but still, some companies would rather have their information on internal servers. When looking for the best ELN software it is crucial to first decide where you want your data stored. Should you choose to store your data on the cloud you should make sure that the vendor takes adequate security measures to protect your data.
When it comes to backups – It is important to make sure that the data is backed up on a regular basis at least daily. In addition, make sure you can restore data for a period of time, and that the vendor has appropriate disaster recovery and business continuity plans.
Complying with regulatory standards
Biotechnology and pharmaceutical companies need to comply with all sorts of regulations such as GLP Compliance and FDA 21 CFR Part 11. Make sure the ELN you choose has features that will assist you in complying with regulations and industry standards if that is a requirement:
GLP Regulations
Any ELN you choose MUST follow standards and comply with GLP regulations as stated in CGMP Guidance document for Industry, published in April 2016.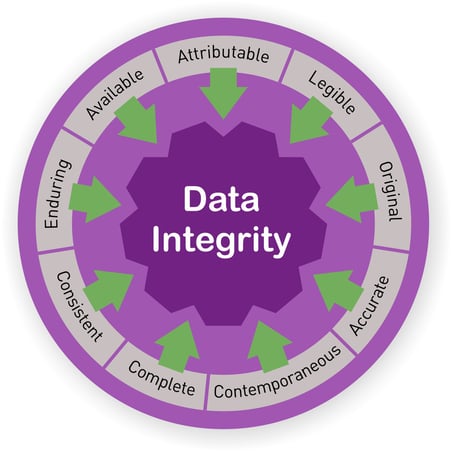 Attributable –

Who & When – The system you choose should facilitate signatures and date stamps on every recorded document in the system that should be attributed to an identifiable person.

Legible-

All Data and metadata should be perpetual and easily read. The data should be kept accessible throughout the data lifecycle.

Contemporaneously recorded-

In order to assure data credibility, all data, including results and measurements, should be recorded at the time they were performed and according to the order they were executed. The ELN system should prohibit backdating data.

Original or a true copy-

The actual primary data from the source the data was originally generated from should be available.

Accurate-

Editing the original data should always be documented and amendments should be annotated to make sure your data is complete, truthful and all changes are marked as such. This means that any change that is made in data recorded on the ELN should show all changes and amendments.

Complete-

Your ELN should enable you to store all the data and metadata and link between them to keep the metadata in context. Data should include all the results, including repeated results and analysis performed.

Consistent-

Data must be kept in the sequence it occurred, traceable (date/time stamped) and created in a repeatable and comparative form.

Enduring –

Data should be recorded and durable throughout the lifecycle.

Available –

Access to Data should always be easily available for review or audit throughout the data lifecycle. Make sure your ELN has search capabilities and bio-ontologies.
21CFRPart11 requirements
:
Closed System

– The ELN requires a unique username and password to log in. In addition, user roles and permissions allow further control to limit access only to relevant records.

Training and Support

– To ensure end-users understand the use of the electronic notebook and other parts of the system the ELN should provide a training module.

Password Policy

* – the ELN maintains a strict password policy to ensure it is not easy to gain unauthorized access, by default – users are required to change the password every 3 months (unless the organization requires a different method).

Electronic Records

– Labguru considers Experiments, Protocols, Document – 21CFRPart11 compliant documents as they are signable.

Electronic Signature

– 21Part11 record requires a two-person signature (signature and witnessing). Once a record is signed and witnessed the ELN should auto-generate a PDF version locking the date of the signature and all associated assets with that signature.

Audit Trail

– Any ELN you choose should maintain an audit trail to all system records – every change to the system is logged in a 'histories' table – thus confirming to the requirement of maintaining an audit trail. Each audit-trail entry should be time stamped.

Retention of records

– all system records should be retained. It is an internal policy of the customer to establish an SOP and risk assessment to the duration of the records that need to be maintained. When deleting a record from the system – it is recommended that the data will be soft-deleted (keeping a copy in the database but not presenting it to the end-user), this allows full recovery of data captured in the system.

Versioning

– on each 'save' the system generates a new version allowing to review editing history.

Copies of Records

– Make sure the ELN supports the FDA requirement by allowing exporting of records in the formats of PDF. In addition, check that the ELN allows periodic download of all system records (as xls, pdf) to ensure data availability
Security
There is not enough that can be said to stress the importance of data security. Make sure your platform is certified. ISO27001 or similar certifications means that the platform is continuously evolving with the right security procedures and considerations in place.
Scalability
Sometimes you start as a small company or use the ELN just in one group in your company. You should verify with the potential ELN vendors how easy it is to scale up (or down in some cases). In addition, the system needs to have scalable storage, as your data will accumulate.
Support
One of the most important factors when choosing the best ELN vendor is to look for training materials, training webinars, online assistance and courses that enable your employees to train at their own time and pace and what kind of customer support the vendor offers, with online support as an advantage. In addition, it is imperative that the vendor has the ability to transfer your existing material fast, in a lossless transition from previous systems.
Trial Period
Make sure you get a trial period of the system you are checking. Take the time to test the system and make sure it fits your needs according to your preliminary specifications. Verify that during the trial period you will be able to test the system in the same working environment you are accustomed to in order to avoid surprises.
System Modules and Features
At this time you will want to check the modules and features the ELN has to offer. Following is an outline of the modules and features you should be looking for:
Research data management
This is the heart of your ELN and will enable you to centralize all your data in one place. You will want to check the following;
Ability to import existing data

Hierarchical data structure: projects, experiments etc.

Possibility to upload or design uniformed or structured protocols templates, adjusted to specific needs and results you are looking for.

Capability to annotate results and link to protocols and experiments

Ability to create research bibliography, such as papers, recipes
Searchable database
Complying with data integrity regulation data should be available for review or audit. A searchable database is a must for any ELN you choose. With vast amounts of data and the need for traceability, you need to be able to search your data within context, create links and perform queries.
Data Analysis
As the industry is becoming more data-driven, big data has become a major challenge. Deriving insights from data has become more difficult, time-consuming, and susceptive to human errors. In addition, the need to automate and streamline lab processes is a key factor in enhancing lab operations. Choose an ELN that offers you the integration of data analysis tools that combine the ability to easily transfer your data from various instruments to your ELN, create workflows to manage your process and calculations and datasets.
Team collaboration
Facilitating collaboration and streamlining information among team members and cross-domain functions while keeping your data safe is also key for success and crucial for saving time and making sure that your efforts are in the right place. Look for the following functions:
Capability to select the project team and editing permissions

Ability to communicate with the team within projects and experiments

Ability to send direct assignments to the team

Possibility to share projects with external collaborators
Research field-oriented modules:
Look for an ELN that offers various modules and tools that fit your exact needs. For example:
Chemistry tools: Compounds properties, drawing compounds & reactions, stoichiometric tables

Data science tools: Datasets, R or Python integrations

Molecular biology tools

Process automation: Workflows, API

Reporting tools

Integration with the lab inventory and equipment

SOPs
Inventory & storage management
Managing your lab inventory effectively can be significant in reducing substantial costs and saving time, enabling you to run your lab efficiently and increase productivity. Having an integrated inventory management system as part of you ELN is a great advantage. In addition to managing your inventory, It will allow you to link between your experiments and stocks, track plasmids, bacteria, antibodies, plants, rodents and proteins and enable you to centralize all order requests.
Business Intelligence (BI) & Dashboards
Making sure you get full insights from research data is fundamental. Data tools that provide visibility into different aspects and angles are a great benefit or should we dare say a must.
Make sure you can design dashboards that give you a high-level view and comprehensive control of the data. Flexibility of analyzing tools, alerts settings and data display are the means for gaining control and efficiency.
Artificial Intelligence (AI), Machine Learning (ML) & Predictive Analysis ready
Aggregation of data must be done in a manner that will allow running predictive tools, machine learning and AI. It all begins with organizing data in a structured manner. Unstructured data will set you back and prevent you from enjoying the fruits of big data tools. Check the status of your data. Understand what it takes to transform your data into structured forms. Having automated tools to help you structure your data is a huge benefit that will save you tons of money and time.
API & Interoperability
We are in the midst of a "connectivity" era, where everything gets connected to unleash greater efficiencies and throughput. Make sure the platform you are considering supports connectivity and does so in a simple widely adopted manner (e.g. REST API). In addition, prefer a platform that was envisioned and created with interoperability in mind. One code that gives you the flexibility to design and evolve the interoperability functions that you really need to connect with LIMS software, Procurement systems, third-party vendors, instruments, other platforms and more.
Instrument scheduling and optimisation
Lab optimization touches many aspects of the lab operation. Lab instruments are no exception. To make optimal use of your lab instruments and your researchers time you must allow scheduling of instruments use and their required maintenance as part of the experiments schedule and researchers time slots.
Large Data uploads & Synch
If you are operating very large amounts of data then this is a real pain point. Without the right tool to allow for an easy, smooth and fast upload and download of data you risk being unable to get all your data onto the cloud and thus unable to use all the features and tools you planned on using.
Overall, I think these are basic requirements and features you should consider when you are looking for the best ELN. Once you have a list created, it will be easier for you to decide which ELN is right for you.
To learn more about Labguru ELN
Read more blog posts:
[1] Future Market Insights, 2018. Electronic Lab Notebook (ELN) Market: Academic End User Segment Projected to Increase at the Highest Growth Rate: Global Industry Analysis and Opportunity Assessment, 2016-2026 (Internet) https://www.futuremarketinsights.com/reports/electronic-lab-notebook-eln-market
[2] EIU. The innovation imperative: the future of drug development part I: research methods and findings. London: The Economist Intelligence Unit, 2018. Available from: https://druginnovation.eiu.com/research-methods-and-findings/