New realtime inline editing capability delivers rapid and failsafe collaboration
September 16, 2019, Cambridge MA – BioData has launched a new inline editing app for its leading Labguru Electronic Lab Notebook. Easy Edit allows users to access and edit any document within the original application, with no need to switch between different platforms or lose time uploading and updating files.
Launching all applications directly within Labguru allows all document changes, regardless of source, to be made in the app where they are autosaved for seamless and efficient editing. Instant retrieval, annotating and sharing of information improves accuracy of reporting and the fully auditable document version control tightens data compliance.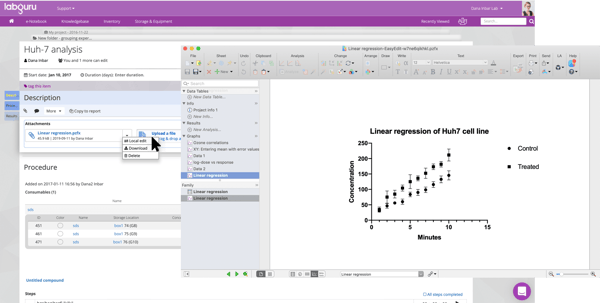 Steve Yemm, CEO of BioData said: "We are first to market with this new level of integration. Labguru users can now embed files containing experiment results or related research data directly in the app, with no need to download and re-upload new information or manually track the latest file version.
"Easy Edit enables Labguru users to edit documents from software including Excel, PowerPoint and Word to commonly used platforms such as Graphpad, Prism, FlowJo and many others.
"This ground-breaking ELN integration now improves information integrity by connecting data from different applications in one platform, delivering valuable time and cost savings and improving collaboration across the globe."
Historically, a drawback of a digital lab notebook has been the need to leave the system to work on another software then transfer the work back – creating potential for human error and taking additional time. Labguru allows every user to record every detail with pinpoint accuracy, store information in a secure and centralised environment and safeguard documents with version control, so all data can be retrieved and edited rapidly.
To learn more about the Labguru ELN – Contact us.
About BioData
BioData delivers SaaS solutions for institutions and companies in life sciences. BioData´s flagship product Labguru is a secure, web-based Electronic Lab Notebook (ELN) which records and manages laboratory data and inventory, helping labs to run more efficiently. With Labguru, scientists can design experiments and workflows, capture structured and unstructured data, manage projects, and share their work. Customisable experiment templates, integration of protocols, SOPs, and other cutting-edge features help to increase data quality, streamline workflows and reduce costs. BioData is part of the Digital Science portfolio of companies all working together to help researchers make a difference. For more information visit www.labguru.com
For further press information please contact:
Michal Frenkiel, VP Marketing
marketing@biodata.com
Read More Press Releases: