Tell us about yourself and your background
I have a PhD in Biology from a joint collaboration between the Hebrew University in Jerusalem and Stanford University. I studied the life cycle of the Hepatitis C Virus and how it uses human cell machinery for its replication and infection. It was fascinating scientific research and the main purpose was to find a vaccine to help ameliorate the suffering of 300 million people infected by the virus. After finishing my PhD, I worked for five years in a drug development company where I had an amazing opportunity to learn how pharmaceutical companies work and witness the discovery of a lead compound through its development to be an approved drug. Both the academic and industry experience that I gained helps me a lot to understand our customers' needs and aiding implementing Labguru in the best possible way. After many years in the industry, I decided to make a change and leave the bench. I recently celebrated two years at Biodata and I'm enjoying every single second of my work here.
What does a Customer Success Manager do?
A Customer Success Manager (CSM) is responsible for managing the relationships between the company and its customers and to generate a long-term value commitment with them. Our main goal is to make our customers as successful and happy as possible with our product, Labguru. If I need to define it in one sentence, to maximize the value our customer gains from utilizing Labguru while enabling us the ability to deliver a better system based on our customer's feedback. The first priority of a CSM is to be in tune and attentive to the ever-evolving customer needs. That means helping them implement the product in the best way and face together the challenges of the dynamic changes our customers go through. In addition, we are the primary point of contact as a trusted advisor for any customer concerns regarding the product and support. From the company point of view, we need to provide the best customer experience possible, which in turn will result in customer retention and expansion.
How does your day to day look like?
We usually start with internal meetings with the different teams at Biodata (finance, product, developers). Our main goal is to streamline operations and get up to date about various issues concerning our customers, making sure that everyone is on board and aware of what needs to be done. Once the morning meeting is over I attend to my customers' needs – I go over all the emails and users messages received during the night (we are located in Israel and have a 7-10 hours time zone difference with our US customers). Usually, this is followed by different types of meetings:
Meetings with our existing customers. We implemented on-going meetings with our accounts to keep up to date, manage a healthy relationship, and basically build a channel of trust and communication between my customers and Labguru. It is important to me that my customers know we are here to hear them and help them in any aspect of their work. Before the meetings, I sketch a plan with the potential features I think are interesting for this customer and the new releases I would like to show them. For example, we recently launched our new Worklow Editor which really help our users to design and automate a series of actions in their Labguru account, so recently I dedicate a lot of time to update about this new feature. The other part of the meeting is dedicated to hearing their feedback, requests and questions. It is very important for us to hear the feedback and requests and to do whatever we can to accommodate our customers' needs, helping them be productive.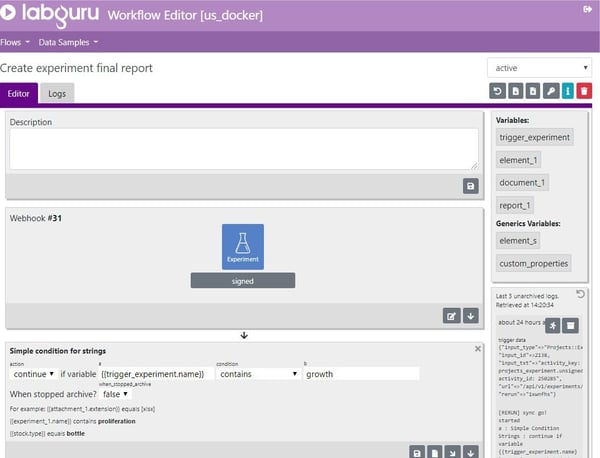 Training sessions – It is one of my highest priorities. I want to make sure my customers make the most of Labguru's features (e.g. ELN, inventory management, datasets, equipment calibration, etc.) and fully understand what Labguru can do for them. In addition, we maintain Labguru's HelpDesk, containing elaborative articles on features and procedures. While discussing features with my customers it is made clear to me what needs to be added to our helpdesk and it is important for me to help our users and make our product easy to onboard. My day to day work is challenging and exciting. Every day I meet new companies and the challenge is to understand what they are doing and accustom Labguru to their needs so they can maximize Labguru usage and advantages. It is important for me to know my clients and what they do and fully understand the research they conduct. It's fascinating to learn interesting new things all the time and to be exposed to mind-boggling research that is going on and in a way be part of scientific breakthroughs.
Share with us something you recently handled and of which you are most proud?
We have recently welcomed to Labguru a new big institute with around 600 users onboarding. That was a big challenge since we needed to move them to a new private environment and train all the users. It was a joint effort between our Product, Development and CS team to have Labguru prepared for them on time, be ready to address any type of issues that new users may be facing and in addition train them all. I can say proudly that right now all of them are working smoothly and got completely independent and experienced in using Labguru. In another case, we had a customer that was in the middle of a very important partnering process with a big pharma, and it was imperative that all the experiments and documents will be exported quickly and properly. We offered them to do that job at our end as a background process to assure data integrity and fast response. In another case, we were supportive of a customer that is in the midst of launching a new product. We did everything we can to support them in the QA process and help them launch the new product on time. I make it a priority to develop warm and personal relationships with my customers. It is important for me that they know I am here for them for any request, question or problem they might have.
How do you make sure your customers work with Labguru and use all the features properly?
At the onboarding phase, I try to learn and understand what is the type of work performed in every company or account. We have kick-off meetings to understand their routine workflows in the lab and try to tailor for them the relevant Labguru functions and tools. In addition, I make sure our customers know how to use all the main modules of Labguru usually by training them. In parallel when users are after the onboarding phase, I like to have frequent meetings to keep them up to date with our newly released features, upcoming developments, and of course to hear their feedback on requests, concerns or any other questions they may have on the system.
What do you like about your work?
After so many years working on the bench, it was a big challenge moving away from it and start working behind a desk. I didn't know if I would be able to do something slightly different or if I would miss handling a pipette. I discovered that I like everything about this work! First of all, we are lucky to have a great team of people at Biodata. Each one of them is special and unique and I enjoy working in such a fruitful and positive environment. I love the relationships I develop with my customers; it gives me much joy seeing them implementing Labguru and helping them evolving into a much enhanced and customized system as their needs keep changing. I like the different aspects of my work and the diversity of tasks I perform: from writing articles on a specific feature, training new users, creating tickets for fixing bugs and working close to our development team and product team, and much more.
What do you like to do when you are not at work?
I love going out to the gym, to concerts and to the movies. But most of all, as a proud mom of an adorable 5 years old boy, I am pretty busy with keeping the right balance between work and family. I love playing with my son and reading him stories, and on weekends going to the beach/pool or just travel around the country.
If you want to learn more about Labguru
Read more blog posts: