Tell us about yourself and your background
I hold a BSc in agricultural science and an MSc degree in genetics and plant breeding from the Hebrew University of Jerusalem, Israel. During my years at the Hebrew University, I conducted a study aimed at revealing hidden signalling pathways of the plant hormone Abscisic acid (ABA). I've always been passionate about molecular biology. Thus, in my work, I focused on practices and methods at the forefront of biological research. Prior to BioData, I took part in an innovative research project that aimed to develop genetically stable cannabis strains, using plant breeding cutting edge technologies.
Why did you choose BioData?
I have always imagined that research is a fairly complex practice. What I didn't imagine was the huge amount of time, effort and cognitive resources that are invested by a scientist to operate the lab and the research. I am convinced that quite a few scientists could identify with me when I complain about wasting entire days on documentation, classification, orders, labelling, and plenty of other lab processes that take valuable time from the researcher.
When I was exposed to the capabilities of the Labguru ELN system in the field of lab work efficiency, alongside the straightforward and intuitive operation of the system – I was hooked and understood I want to take part in improving the way people work in the lab and be part of helping scientists concentrate in doing science rather than technical and administrative work. I strongly believe that the tools Labguru offers scientists really make a difference in the way they work, it saves them time and money and allows scientists to concentrate on their research.
Tell us what a QA Manager does?
As a company, BioData invests significant resources in Quality Assurance (QA). Accordingly, we, in the QA team, take our work very seriously. In general, our work is divided into two main issues:
Monitoring the system – In addition to the automated tests which are carried out regularly, comprehensively and thoroughly, we carry out manual testing of the system while emphasizing issues such as user experience and complex operations that require "Hands-on" experience in biotech. Our goal is to make sure that the system works and functions exactly as it should, Therefore, we need to know the system flawlessly, or as we usually say, "We have to be labguru heaviest users".
Testing and evaluating new features that will be embedded in the system in the future. In this aspect of our work, we invest a lot of thought and planning, there is no room for error here. the new feature must be perfect when integrated into the system. This work requires us to work closely and with full collaboration with the development team as well as constant consultation with the product team. Our responsibility is to make sure that the requirements and guidelines of the product team are kept and implemented by the development team in the final product. There is always more than one version, and often the product team needs to update the initial requirements following QA insights.
How does your day to day look like?
I like to start my day early. The first few hours of the day I usually spend on writing test plans. These test plans are used to administer and monitor the test we execute. Then, we have a daily meeting with the product, development and customer success teams. In the meeting, we discuss urgent issues and prioritize the various tasks. Collaboration and good communication here are the keys to success, and I think these are our company's strengths. Afterwards, I turn to perform the tests I planned in the morning. The last part of the day is usually the busiest on the system and our servers, so during these hours, we integrate load and stress aspects in the tests we perform.
Tell us about something you recently handled and of which you are most proud?
We recently developed Easy Edit, an app that allows users to open any type of file found in Labguru on their computer, update the document and the changes are automatically saved in the document in their account. It's an amazing tool that allows users to keep all their data in one secure place, without worrying that one document will become several different versions due to the simultaneous use of several lab members. From my experience, I know that splitting a document into different versions is one of the common ways in which data and information are lost. The work on Easy Edit has been intense and challenging. Easy Edit app includes a key component of data protection, therefore, there is a huge responsibility on the QA team. The app needed to be tested in endless different situations where users might challenge the system and the app. In the end, we are the ones who give permission to start implementing the app and we have no intention of doing so until we're sure our users' data is 100% secure.
What do you like about your work?
Although my background is biology and research, I really enjoy working in the software industry, a very interesting and fast-moving world. It's nice being part of the development process, improving and perfecting this much-needed product. I like the position our department has in the fact that everyone around us in the company understands our work importance.
What do you like to do when you are not at work?
I am married, and we have a cute little girl. I naturally like to spend time with my family at home or outdoors, in nature. During the summer we spend most of our free time at the beach – We just love the sea and love to do water sports like scuba diving and surfing. In winter we take long walks, sometimes biking, in the hills around our home. Most often, our favourite game is "Find The Deer".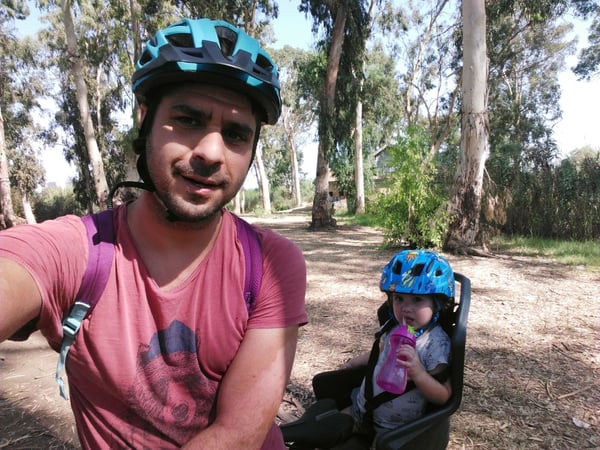 Read More Blog Posts: