Meet Gal Haase, our Product Manager. Gal Joined Labguru almost five years ago and quickly became a main pillar of Labguru. We asked Gal a few questions to help you get to know him better:
Tell us about yourself and your background
I started my academic career with a B.Sc in both physics and biology at Tel Aviv University and then continued to Weizmann Institute of Science for M.Sc and PhD in Molecular Cell Biology. I started at Biodata almost five years ago as a member of the Customer Success team. Two years ago I moved to the product team. Currently, my role in the company is Product and Project Manager – driving and executing new product releases (from design to development) on one hand, and managing onboarding projects of new customers that require infrastructural or developmental configuration and implementation (specialized servers, implementation of authentication systems, feature enhancement developments etc.) on the other.
Why did you choose to work on an ELN software like Labguru?
After graduation, I knew that I wanted to explore the high-tech industry, rather than continue as a researcher. I have always been a "computer-enthusiastic" and really wanted to find a place where I would be able to merge it together with my experience from my years in research. When I heard about Labguru ELN software, it immediately caught my attention as a perfect place for that, which turned out to be true.
Tell us what you do
As a product manager, I am responsible for planning our development roadmap that is based on several components:
Strategic analysis of the industry – Identifying trends and new popular techniques used by our customer persona

Drive for technological innovation – implementation of new tools and systems that can expand what Labguru can offer to its users.

Our customers use cases, pain points and wish lists – We are a very dynamic company and have always taken pride in listening to our users when it comes to what can be done better or differently in Labguru
By prioritizing all of the above, I define a quarterly development plan with objectives and assign the work to the development teams.
As a project manager, I work with new customers that have special configurations or developmental requirements and see that their needs for ELN integration with laboratory management solutions are fully met. This is the more "customer-facing" part of my day, I meet regularly with the customer making sure all their requirements are executed to their satisfaction and on time.
How does your day to day look like?
Every day starts with our development daily stand-up meeting, but except that, most of my days are pretty different every time. There are days with plenty of meetings with customers or new companies that are interested in Labguru. Other days I would focus on the design of new Labguru features or write functional and user requirements documents. Every two weeks I also plan and set the objectives for the development team for the next 2 weeks, based on the quarterly plan created in advance.
Recently I was heavily invested in the release of two new products that work together with Labguru: The Workflow editor and Labguru Dashboards. Labguru Workflow Editor is an automation tool that allows customers to design and add automatic processing and analysis to their Labguru account. The Dashboards is our own BI solution, integrated into Labguru – using the dashboards, customers can query their database by themselves and visualize the results in charts, graphs, tables and more. I am extremely proud to be part of these two projects, it is genuinely cutting edge stuff that elevates what users can achieve with Labguru. The best part is when I introduce one of those tools to someone that hasn't seen them before and hear them being amazed. On a more personal note, thanks to these two projects, I learned quite a lot of coding, which is really fun and gives me even more diversity to what I can do for the company.
Tell us about something you recently handled and of which you are most proud?
That would be the Workflow Editor, no doubt… It is the coolest tool ever.
The Workflow Editor allows our customers to customize and automate a series of actions and events that happen in their Labguru ELN software account. It can be used to simplify the life of the user, by performing repetitive actions in the system for them (i.e creating reports for finished experiments, updating inventory items properties and more) or to automatically analyze the data they upload (plot a graph from an Excel, visualize a histogram, clean data in big and unreadable data files…)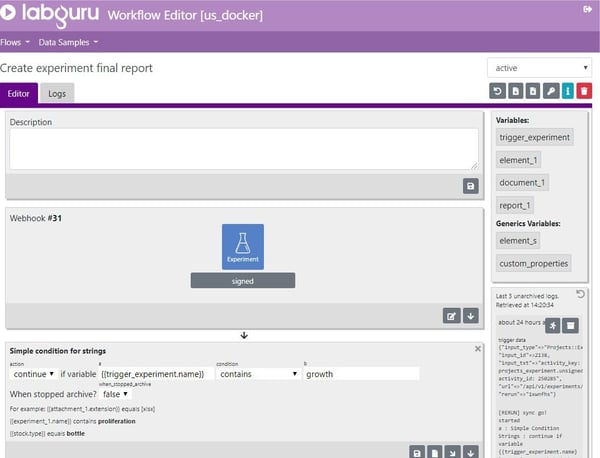 What do you like about your work?
There are many things that I like about what I do. I really like the fact that my work is very varied. It is never monotonous. We have customers from all over the world, and I get to meet and talk with a lot of people from different places and cultures which is very interesting.
Tell us something about yourself
I just turned 40 a few weeks ago, which is very weird for me. I met my wife when we were about 8 years old, we became a couple when I was 18 and we have been together since. She is practically my second half…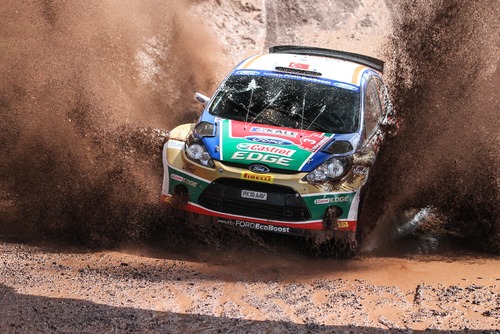 When I was young I was totally crazy about cars. I used to watch car races from all types for hours. I dreamt to be a Rally car driver when I grew up and pretty much played with miniature car models my entire childhood. I still adore the way cars were made in the '80s and 90'. I used to know every car that exists to the finest detail. Today, all cars just look the same to me…
Anything Else?
I am so glad I happened to get to work in Labguru, I am really proud of what we accomplished here. II really think that Labguru is a great product and I urge you to request a demo and see for yourself: