2 April 2020, Cambridge MA – Electronic laboratory notebook (ELN) pioneer, BioData, today announces its support for the global science community with the introduction of a new video conferencing service in its leading Labguru ELN platform, free of charge for all customers.
The new LabRoom tool facilitates live global collaboration, experiment planning and tracking, as well as data collation and analysis, all within the Labguru electronic web notebook.
Jonathan Gross, Founder and CTO of BioData explains: "Faced with the COVID-19 global pandemic, adapting to social distancing and remote working is a new challenge for all organisations, particularly in the collaborative world of science, laboratory research and clinical trials. Never before has the world's spotlight been more sharply focused on the scientific research community to deliver answers.
"As a software provider to the world's science community, we are well placed to support remote working and global scientific collaboration. We hope that launching this new service at this time for all our customers, completely free of charge, goes some way towards supporting researchers working across the globe to combat this crisis."
A key feature of LabRoom is its ability to work within the Labguru ELN platform, capturing all the powerful data tracking, management and analysis capabilities within the application. Its features include one-click video chat, video data encryption, real-time delegate availability indication, screen sharing via Google Chrome, a session recording option and – critically at this time – instant access, with no need to download, verify or install new software.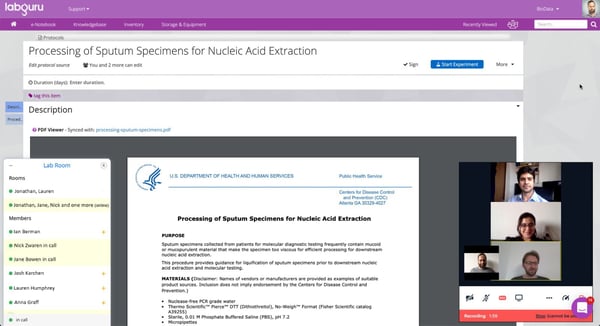 Launching all applications, including video, directly within Labguru electronic web notebook allows all data to be autosaved in the app for instant retrieval and sharing of information. This new automation delivers valuable time savings and improves accuracy of reporting, audit control and compliance.
Jonathan Gross continues: "The shift from a paper-based lab and paper notebooks to a cloud-based laboratory data and collaboration platform is already in high gear. Easy recording of experiments and audit trail, lab inventory, automating routine procedures, remote collaboration and now video are just some of the ways in which Labguru's electronic lab notebook revolutionizes lab work for thousands of scientists across the world."
Read more on how Labguru can help your team stay connected during the COVID-19 crisis in our latest blog.
About BioData
BioData delivers SaaS solutions for institutions and companies in life sciences. BioData´s flagship product Labguru is a secure, web-based electronic lab notebook (ELN) which records and manages laboratory data and inventory, helping labs to run more efficiently.
With Labguru, scientists can design experiments and workflows, capture structured and unstructured data, manage projects, and share their work. Customisable experiment templates, integration of protocols, SOPs, and other cutting-edge features help to increase data quality, streamline workflows and reduce costs. Labguru is available on desktops and mobile devices via the cloud.
Backed by Holtzbrinck Publishing Group, Labguru is part of the Digital Science group.
To learn more about the Labguru software-as-a-service, visit www.labguru.com or call us on +1 (844) 241-5000.
For further press information please contact:
Michal Frenkiel, VP Marketing
marketing@biodata.com
Read More Press Releases: