We are pleased to announce the launch of our powerful new Requests module, which will enhance laboratory operations through a single, centralized platform. This module has been specifically designed to cater to Quality Control labs, Contract Research Organizations, R&D teams, Manufacturing, Service Labs, and Logistics teams, revolutionizing the way you submit, track, and manage requests.
The Requests module offers significant gains in lab management, streamlining operations, and boosting collaboration within teams, eliminating cumbersome and disorganized request handling. This means you can embrace a more efficient and organized approach and achieve faster results.

Unified Templates for Consistency and Clarity
With the Requests module, you can introduce standardized templates for each category of request, eliminating the need for repetitive work. This feature saves precious time and effort, and eliminates redundancies, ensuring that your teams operate with utmost clarity and consistency. You can design request templates based on your specific needs, ensuring that all necessary information is provided right from the outset and allowing transparency and accountability to become the pillars of your laboratory operations.
Seamless Collaboration and Communication
The Requests module emphasizes clear and transparent communication. The structured design of all requests, created with the help of templates, provides a panoramic view of process statuses. You can prioritize and schedule testing based on urgency and deadlines and easily track the real-time status and assignment of each request. Crucially, you can also filter and sort requests according to relevance to ensure everyone is well-informed, accountable, and working cohesively.
Integration for Streamlined Data Management
The Requests module is fully integrated with ELN, LIMS, inventory and equipment modules, leveraging familiar tools meaning your team members are comfortable navigating the data. This results in a smoother work process, enhancing productivity and organization.
Efficiently Manage Sample Testing and Shipping Requests
For QC labs, CROs, and service labs, managing sample testing and shipping requests can be daunting. The Requests module simplifies this process, enabling prioritization based on urgency and deadlines. Teams can effortlessly track the progress of each request, promoting efficiency and trust.
Compliance with Confidence
Regulatory compliance has always been a top priority for QC labs, CROs, and service labs. The Requests module addresses this concern with a secure and auditable record of all request templates and open requests. Careful permissions management ensures data integrity, while raw data can be easily attributed to specific requests. This means that compliance is no longer a burden but a natural outcome of efficient lab management.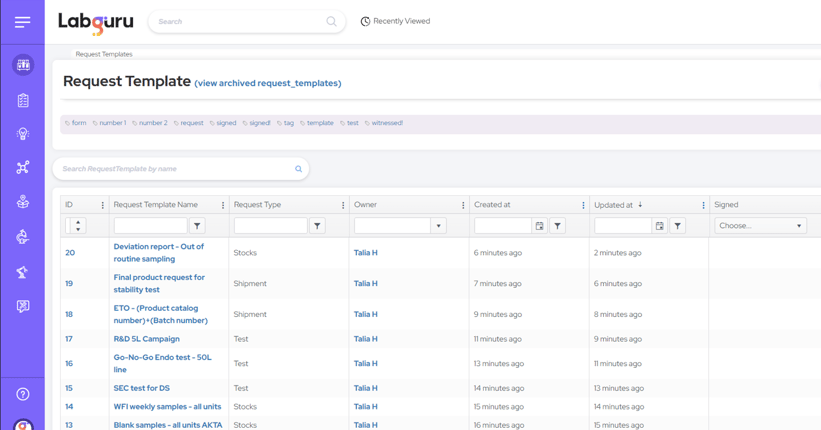 Reap the Rewards of Labguru's Requests Module
Ultimately, our Labguru Requests module can bring a new level of organization, transparency, and efficiency to your lab workflows. By streamlining your work and managing requests effectively, you can achieve more with clarity and collaboration.
For more information on how to leverage the Requests module for your lab, please contact us.