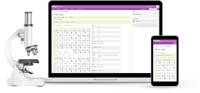 Your all in one research data management solution: LIMS + ELN + Informatics & more
Integrated Laboratory Information Management System
Labguru laboratory information management system, integrates LIMS, electronic laboratory notebook (ELN) and informatics capabilities and is your ultimate lab operations and data management solution. Using Labguru all-in-one lab management system eliminates the need to use several systems, saving integration issues and multiple vendors. Labguru LIMS & ELN can be easily configured and installed in any lab, pharmaceutical, chemical, CROs, Environmental, clinical research or academia.
Today's research requires R&D research organizations to be flexible more than ever. Labguru offers diverse capabilities and will ensure that your lab will maintain data integrity at the highest levels with state of the art security measurements. Labguru LIMS software turns your lab into a paperless lab, allowing you and your team to run and design research projects, manage your inventory and instruments and create workflows, all in the same place.
Our team of PhD's will support you along the way from configuration to your day to day work.
Streamline Laboratory Operations
Labguru LIMS software is flexible and easy to use, offering the ultimate holistic solution for modern labs seeking to minimize operational costs and overhead. Integrating ELN, LIMS and Informatics tools in one system makes Labguru the leading research data management system in the market. Key benefits of Labguru lab management systems include:
Full integration of ELN, LIMS informatics tools and calibration management

Secure and GXP compliant

Allows Interaction and collaboration with colleagues within context

Harness RESTful API to import data from instruments or other resources
Labguru laboratory information management system & ELN includes:
Rich ELN

Inventory Management

Sample Tracking

Full Audit Trail

Equipment Management

Workflow automation

Certification analysis

Reports & analysis – BI & Dashboards

Large data upload/export- Labguru Workflow




Key benefits of Labguru Laboratory Information system
Using Labguru all in one LIMS and ELN will allow you to streamline lab operations, increase efficiency and speed up your research outcomes, saving you time and money.
Easily share your data with your lab members

Drive insights into your research with Labguru Dashboards

Automate processes and create workflows

Reduce human errors
Labguru LIMS optimizes lab resources from day-1
Increase productivity and avoid human errors

Maintain data integrity & ensure regulatory compliance

Set high standards of data management

Protect your intellectual property

Deploy Labguru laboratory information management system in days
Get our Team of PhDs Working for you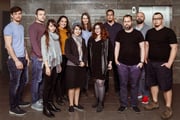 Our Application Scientists team of PhDs are just a click away. They have seen it all working with pharma and bio companies of all sizes, and ready to assist you to configure Labguru lab information system & ELN in a couple of days. Later our team will assist you in your daily operations making sure Labguru is fully operational.